Eggleston Hall
From Gobblerpedia
Eggleston Hall (EGG M/W/E, #21/22/23) is one of the oldest Hokie Stone dorms on campus, and comprises 3 wings. It is located on Lower Quad across from Owens Hall, and is convenient to the Drillfield, Newman Library, and College Avenue.
The main wing was completed in the 1935, renovated in the 1960s to become an all-womens dormitory, and has housed Echo Company from the Corps of Cadets from circa 2013 to 2017. The west wing was constructed in the late 1930s, and included the Eggleston arch, the only vaulted arch on campus, most notable for the high wind speeds during the winter. It was also renovated in the 1960s. The East wing was constructed from 1938 to 1940 by the Federal Works Agency, and includes a 5-storey tower. East Eggleston is home to the Division of Student Affairs and a branch office of the Cook Counselling Center. The upper two floors are sometimes used for residential purposes.
The three Egglestons are part of the Drillfield community; consequently all mail is picked up in that residential area office in Peddrew-Yates.
Main Eggleston Hall
Quirks
The rooms above the arch are on a half-floor, but are considered part of the 3rd floor
Several rooms have their only doors onto the stairwells, and also have the benefit of multiple windows and an extra closet.
Room size is highly inconsistent
Bathroom walls are color-coded by floor: the 3rd floor has pink tile and matching partitions, the 2nd floor has teal, and the first floor is yellow.
The lounges on the first floor have grand fireplaces.
Amenities
Exploring
The access to the basements of Main Egg (and consequently the steam tunnels) are at the bottom of the stairwells at the two doors which lack Hokie Passport swipe locks.
The attic is accessible only by a retractable ladder at the top of the 3rd floor west-central stairwell. The attic is well-lit with natural light from the dormers on the roof. Some interesting notes about the attic:
the rafters are all wooden
the roof is slate
there are two webcams located in this attic: one surveils the Library Plaza, while the other covers the Drillfield.
West Eggleston Hall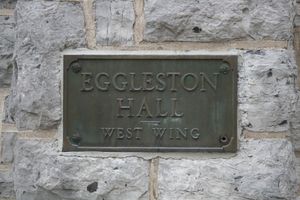 Quirks
The new sign on lower quad is misspelt as "West Eggelston Hall"
East Eggleston Hall
There are large rooms on the 4th and 5th floors, in the tower of East Eggleston.
Amenities
This building has Air Conditioning, but does not have a laundry room.
External Links