Blacksburg Electronic Village
The Blacksburg Electronic Village or BEV was conceived an outreach project of Virginia Tech in 1991 and officially born in 1993. The goal of the project was to develop an online community linking the entire town via a municipal broadband network, with assistance from the Town of Blacksburg and Bell Atlantic. Extensive outside research had been done by sociologists and computer scientists on this project. It has been noted as one of the most important assets that Blacksburg has besides Virginia Tech itself.[1]
The BEV initiative brought wired Ethernet connectivity to dorm rooms, off-campus apartments, and local businesses around 1993 via installation of municipal fiber. Off-campus Internet access was achieved through a combination of fiber and T1 circuits advertised as "100 times faster than dial-up". Bell Atlantic, the local telephone company at the time, is known to have installed at least the last mile equipment. For a while, BEV also operated a number of online services, including gopher and Usenet. BEV was extremely successful, as 87% of Blacksburg residents used the Internet regularly by the late 1990s.
In 1995, around 30,000 out of the 70,000 residents had access to the Internet. Two-thirds of users used the university's web servers. That means that approximately 42.86% of the town's population was on the World Wide Web. The BEV was so thoroughly integrated in the Blacksburg community, that in 1998, the town was chosen by Guinness World Records as the "Most Wired Community."[2] If it were not for the BEV, it would be doubtful that the town could have achieved such a record.
By 1995, BEV had eliminated its modem pool service and transitioned all of its customers to private sector ISPs. In 1998, BEV discontinued its residential Ethernet service and sold its lines to the private sector. It is suspected that NTC took over the Ethernet in apartment complexes. BEV currently is not accepting new customers, but the BEV and the Town of Blacksburg are now co-sponsoring a Broadband 2015 initiative to get high-speed gigabit connectivity throughout Blacksburg.
Apartments that had BEV Ethernet
This list is current as of 2002, as the page is no longer available:
Cedarfield
The Chase
The Village
Foxridge
Ivy Gardens
Jefferson Apartments
Tech Terrace
Pheasant Run
Roanoke street / Brendon
University Terrace
Collegiate Suites / Hunter's Ridge
Pointe West Management/Pointe West Commons
Knollwood
Price/Williams Apartments
1995-1997 Network Topology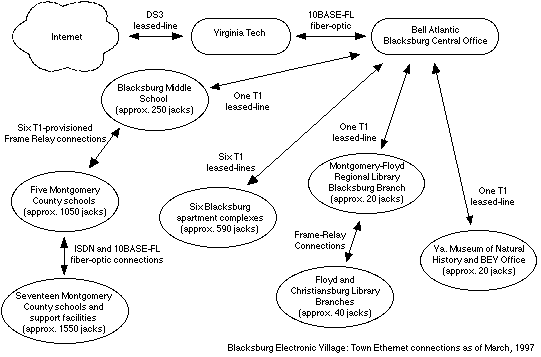 Links
References

This article has been modified from an original version written for Wikipedia. The original version was made available under the CC-BY-SA 3.0 Unported license.